Our Group Classes train you how to train your dog!
Get off to the best possible start with your dog! The Novice Group Class creates a solid foundation for your dogs learning to build on. This 10 week course of 1 hour classes will teach you the best way to communicate with your dog! This class is perfect for dogs 10 weeks of age to 10 years of age! You will learn all the basic commands you need as well as introduce you to some minor distraction-proofing. Enjoy a quiet, relaxing atmosphere to train in while your family /friends watch and take notes. Our methods are rooted in the 3-C's of dog training, Clear Consistent Communication. Our classes are stress-free and fun, we don't blame you, we train you! Class size is limited to a maximum of 12 dogs and has at least 3 trainers in the room to ensure plenty of personalized assistance throughout the course. We set you up for success! New classes start every month, see the dates below for the next start times. 
Commands included are:
SIT AT HEEL, RELEASE COMMAND (Ok!), GREET A STRANGER, SIT-STAY for 1minute, DOWN AT HEEL, DOWN-STAY for 3minutes, RECALL (Come!), LOOSE-LEAD HEELING, STAND AT HEEL, LOOK-AT-ME and (go to your) PLACE.
(Below are the class start dates. If you start on a Saturday at 1pm, you continue at the same time for 10 Saturdays in a row at 1pm.)
Thursday March 23rd @ 7:00PM SOLD OUT

Saturday April 1st @ 1:00PM

Thursday April 6th @ 8:15PM

Saturday May 6th @ 2:15PM

Tuesday May 23rd @ 8:15PM

Thursday June 1st @ 7:00PM

Saturday June 3rd @ 3:30PM

Thursday June 15th @ 8:15PM

Saturday June 24th @ 1:00PM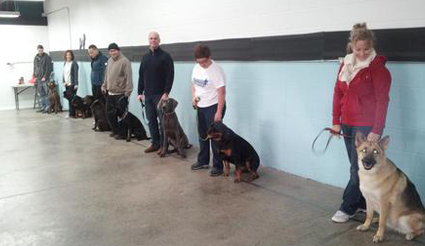 The Intermediate/Advanced Group Class builds heavily on the foundation created in our Novice Class. It is a flexible 1 year membership of distraction-proofing and introduces you and your dog to dozens of new commands. We regularly train in public at various locations around Burlington. Attend once a week, twice a week, twice a month, it's up to you! If you miss something new, not to worry, you will catch it the next time around. It's a tonne of fun in a relaxed atmosphere with very personalized training! These 1 hour classes run on Saturday mornings at 11:00am and Tuesday evenings at 7:00pm. Within no time your dog will be totally amazing you, we guarantee it!
Membership cost = $995.00 + HST
Start anytime after you complete our Novice Group Class!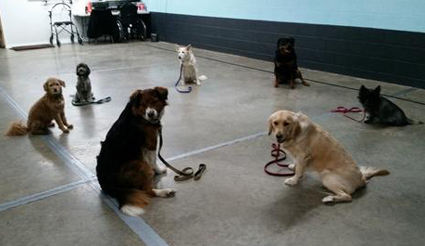 "Love, Love, Love Canine Balance Training! Our Mastiff Oliver is so well behaved now, and listens to us with no problems. We love Ron and Jenna...they are wonderful trainers and love all the dogs that visit the school! We will definitely continue with Oliver's training!"
Teresa Grant
Hamilton