Accelerate your dogs private lessons or group class training with our DOG DAY SCHOOL PROGRAM exclusively for dogs that train with CANINE BALANCE TRAINING! (Sorry, no walk-ins)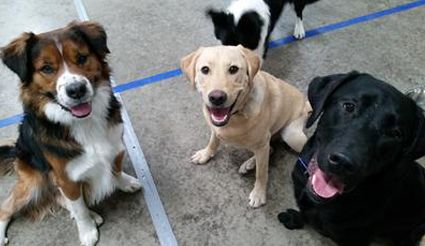 ​Canine Balance Training's Dog Day School Program is an all day scheduled curriculum of FUN, PLAY, MENTAL STIMULATION, EXERCISE, CAREFULLY MONITORED SOCIALIZING, PACKWALKS and OBEDIENCE TRAINING for your dog!
Tuesday thru Friday, drop off your dog in the morning between 8am-9am and we send them home with you in the evening anytime before 5:30pm SMARTER, MENTALLY & PHYSICALLY SATISFIED and BETTER BEHAVED! During the day, professional trainers work on your dogs focus and teach rules & boundaries while distraction-proofing to help improve your dogs overall behaviour.
The day starts with a couple of fun hours of monitored play followed by a 1 hour Packwalk mid-morning. After our walk we continue with play time but start obedience training in groups and in one-on-one format. Whatever level of training your dog is at, we will work them on the commands they are learning and prep them for the next level! We have a 6 dog per trainer maximum to ensure each dog gets the attention they need!
As an added bonus a Photo Diary of your dogs day is posted nightly on our Facebook page so you can see how awesome their day was! Check it out in our "Today at Dog School!" posts!!!
Your dog must be enrolled in our Novice Group Classes or Private Lessons with us to participate in Day School.
The cost for a day of school is $48.00/day tax included.
For more information on doggy day school, give us a call today! (905) 465-5837